Nanotechnology Material Business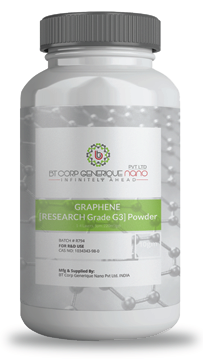 So-called nanotechnology attracting attention from the industry, as is generally known. Even technology basic plan is taken up as an object in Japan for Cabinet Office Council for Science and Technology Policy announcement third period.
For the new development including the field of resin, film which we were engaged in and electronic materials, We have started the handling nanotech products by BTCORP GENERIQUE NANO PRIVATE LIMITED company (India) to support this trend.
Graphene is a material with specific functionality found for development of products including toughness, the conductivity in the future. We deal with graphene, Graphene master batch, GO, graphene ink and the carbon nanotube and support the advanced technology development of all of you.
Products Introduction
Graphene

Technical, Industrial, Anaritical grade

| | |
| --- | --- |
| Purity | 96-99% |
| Thickness | ~3-6nm |
| Surface Area | 323-600 m²/g |
| Diameter | 10-20 Micron |
GO

Thermal Countermeasure

| | |
| --- | --- |
| Purity | > 99% |
| Thickness | 0.8-1.6nm |
| Surface Area | 500 m²/g |
| Number of Layers | Average 1-2 |
Grapnene Master batch

Enhaunce Hardness

| | |
| --- | --- |
| Basis Polymer | PP, PA6, PS, LHDPE |
CNT

Purity
> 97%
Diameter
Av. Outer Diameter: 20nm
Av. Inside Diameter: 16nm
Surface Area
189 m²/g
Length
~20 μm
Product List

Graphene[Industrial]
Graphene Oxide[Industrial]
Reduced Graphene Oxide
Functional Graphene-Carboxyl Group
Functional Graphene-Hydroxyl Group
Functional Graphene-Phosphate Group
Functional Graphene-Amine Group
Graphene Ink
Multi walled Carbon Nano Tube
Functional MWCNT-Carboxyl Group
Functional MWCNT-Hydroxyl Group
Functional MWCNT-Amine Group
PP Graphene Masterbatch
PS Graphene Masterbatch
Polycarbonate Graphene Masterbatch
Nylone Graphene Masterbatch
Case Examples of Materials
Rare Metal

It can be substituted for rare metal (indium etc) indispensable for touch panel, flat panel television, solar cell and so on.

Battery Material

It is possible to increase the capacity of the lithium ion secondary battery.

Light Weight Reinforced Plastic

By adding small quantity to plastic or carbon fiber composite material, it is possible to make lighter and stronger materials.

Sports Gear

Improving performance for golf balls or other sports gear.
Contact us
If you have any questions, please feel free to contact us.