Carbon Fiber Composite Materials
Carbon fiber composite materials have been limitedly and professionally produced in Japan industry so far. Nowadays, molding companies of resins, metal processing manufacturers who have never been related with carbon fibers have got involved and developed new products and technologies. Especially the strong demand of light weight in automobiles market drives it fast.
We, K.Sakai can introduce a wide range of products from small quantities for prototype development to intermediate materials for mass production and also molded products.

Filament Fiber
It is a long fiber bundle composed of many single fibers. Japanese and overseas goods are available. We propose the best product according to the physical properties of thread, thickness and sizing material request from the customer.
Woven Fabric
It is a woven fabric composed of long fiber or staple yarn. It is possible to propose special fibers such as plain weave, twill weave, UD cross (sheet), hybrid fabric with aramid fiber and others.
Chopped Fiber
It is a cut fiber bundle in which PAN carbon fibers . The cutting size is from 3 to 50 mm and various sizing agents are adhered. The main cutting size is 3 mm and 6 mm, and the sizing amount ratio can be adjusted from 1.5 to 5%. Various sizing materials (epoxy, urethane, aromatic type, PA, PP etc) are available. There are many achievements in CFRP application, and it is under development to ABS, PP, PBT, PC, PA, PPS, PEEK and others.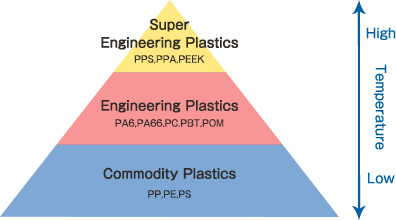 Milled Fiber
It is a powder obtained by pulverizing PAN type carbon fiber and its particle size is 80 μm and 150 μm. For example, it is used for drills for ocean drilling and conductive paints.
Prepreg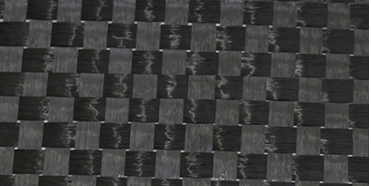 Thermosetting Prepreg (CFRP)

It is a sheet-shaped intermediate material in semi-curing in which carbon fiber is impregnated with thermosetting resin such as epoxy, phenol and so on. Fast curing type is also available.

Thermoplastic Prepreg (CFRTP)

It is an intermediate material for sheet molding which impregnated carbon fiber with thermoplastic resin such as PP or PMMA.

Resin for Thermosetting Prepreg

Epoxy or urethane acrylate fast curing type resin.
Urethane acrylate type resin provides CFRP with excellent physical properties. There is no need for extremely cold storage. It is highly adhered to carbon fiber surface-treated for epoxy resin. Moreover, it can be applied to various molding methods because of easy viscosity adjustment. Excellent in adhesion to glass fiber, basalt fiber, aramid fiber.
Different Material Adhesive
It is a two component acrylic strength adhesive which was devised for bonding of composite material, thermoplastic plastic and metal. If you clean and bond the surface of the adhesive base without requiring a primer, it shows clearance filling ability and high toughness up to 5 mm at all adhesion points.
Recommended Substrate
Composite Material
Carbon fiber(CFRP)
Glass(GFRP)
Epoxy
Vinyl ester
Urethane
Gel coat
Metals
Aluminum
SUS
Carbon steel
Powder coated steel plate
Thermoplastics
PMMA
PS
ABS
PVC
Applications
Airplanes

Airplanes, Aerospaces, Artificial satellites etc

Railways

Railways, Railroad cars, Shinkansen etc

Automobile Parts

Relief valves, Disc pads, Brake linings, Clutch facings etc

Industrial Market

Robot hands, Arms, Frames, Laptop computers etc
Contact us
If you have any questions, please feel free to contact us.